COVID Notice:
Please note that all of our programs are COVID-dependent and are subject to change based on COVID regulations and participant safety. Our first priority this summer is the safety of our sailors, coaching staff, and club members.

The nature of the sport of sailing means that there is potential for close contact between participants and forceful exhalation while sailing. For this reason, proof of full vaccination, or a valid medical exemption, is required for all participants and staff of KYC Learn to Sail programs.
Membership Credit Book:
Full Family members will receive a credit book equal to 15% of paid program fees, which can be used for Food & Beverage, Regalia, and Gas Dock purchases. This replaces the previous membership discount.
Welcome
A camp. A sailing school. A swimming hole. A summer of memories.
KYC has a long tradition of great coaches, amazing waters and an amazing location to spend a few weeks in the summer. From beginners at any age to advanced racers who have sailed the world's most famous waterways, KYC offers a day camp, clinics and off-season training.
Parents – sailors or not – be assured that the coaches are not your typical camp instructors. Coaches have spent years training as sailors and national achieved national instructor certification through Sail Canada. Certification includes everything from first aid, water safety, teaching, lesson planning, leadership and most importantly sailing. Using Sail Canada's CANSail programming – our instructors maximize as much time on the water as possible - depending on Mother Nature of course. More importantly, our instructors and coaches teach their lessons by doing and showing rather than talking and testing.
KYC has been a leader in junior sailing nationally and internationally for more than 100 years. Thousands of sailors have had the opportunity to experience sailing through KYC. Sailors from KYC's Junior Sailing Program have gone on to compete in collegiate, national, and world competitions; including America's Cup, and Olympic competitions while developing a lifelong passion and love for the sport.
Our overall goals are simple: Safety, fun, and success.
We provide a safe and fun learning environment for young sailors, and:
Teach young people safe boat handling, seamanship, and sportsmanship;
Help young people learn to sail;
Help young people learn techniques of one-design racing and to help them fully develop their one-design racing skills; and
Promote youth sailing competition.
So what are you waiting for? Learn more:
Program Guide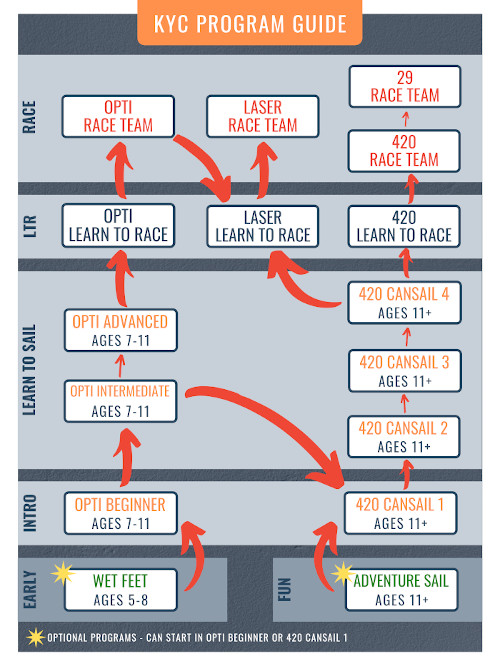 Returning Sailors/Families
Have you sailed with us before?
Login to your family Sailing School Account to see all of your children, and their recommended levels for this year:
Sailing School Login
Need Help?
Want to know what program is best for your child?
Forget what they took last year?
Have a billing question?
Want us to save a spot for a few days?
Rachel Harris - JS Head Instructor
juniorsailing@kingstonyachtclub.ca